About Us
Clean Carpets Perth and Pest Control started in 2018 as a carpet cleaning business, and soon grew out of a desire to serve our customers better. We found that people needed their carpets cleaned as well as having their pet / flea spray done. We took the plunge into pest control and found not only could we provide a pet / flea service we have excelled at all pest control services.
The journey has taught us the value of good quality work combined with good training. The best part of what we do is when we get a previous customer returning to use our service. We value the relationship we build and carry forward with our customers. Our aim is to make customers for life. We are a IICRC Certified firm, proud member of the WACCA, as well as pride our selves with having a working mentoring relationship with some of the best in the business.
The challenge for us is to never stop growing in bringing the best quality and friendly service to our customers.
The two big attributes we pride ourselves in is quality and friendly service. 

There are so many in the industry who lure clients with false promises and trade on the customers lack of understanding on proper methods. 

We strive to assure provide our customers with an understnaing of our services as well as providing a credible quality of work that is in line with Australian Standards and our high standard of workmanship. 

It takes nothing to enjoy meeting new customers and taking pleasure from their satisfaction at seeing their needs met. This is our mantra. Having our customers feel at home and knowing we are open to any questions, or information they may need in order to give them a good understanding of our services.  We value our customers trust and look forward to meeting their expectations. 
A little more
Clean Carpets and Pest Control Perth offers great service, and quality workmanship. I am an owner operated business which means you get quality service that reflects our values and principles. We have a long history of servicing the real estate market, building industry and residential properties in Perth WA.  
 I use eco-friendly business practices to ensure our customers' health and safety. Fully trained and competent in carpet cleaning, upholstery cleaning, mattress sanitation, carpet dying and advanced stain removal, flood restoration, and tile and grout cleaning. Fully qualified, trained, and licensed Pest controller.  
I am fully insured with an ABN and a police clearance certificate on request. Fully trained through preo- training as well as IICRC accredited firm. Licensed through the department of WA Health Department. All work completed to Australian standards with a three-day workmanship guarantee. Servicing both residential and commercial customers. 
Fully trained with WACCA and IICRC accreditation. 
All work is done to Australian Standards 
Provide you with a 7-day work guarantee
Fully insured for your peace of mind. 
ABN registered 
Fully Licensed pest control
We continually upgrading our equipment
Committed to ongoing training and development of Skills
Great Reviews and references
A strong desire to make lifelong customers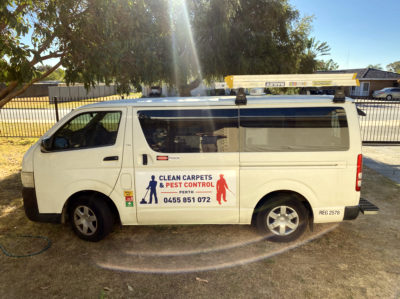 CCAWA Accredited no #1929
IICRC Accredited Firm no #65394851
Pest Management Technician Lic no: 11318